An Australian's Guide to San Francisco Coffee
####Obviously my first post needed to be about coffee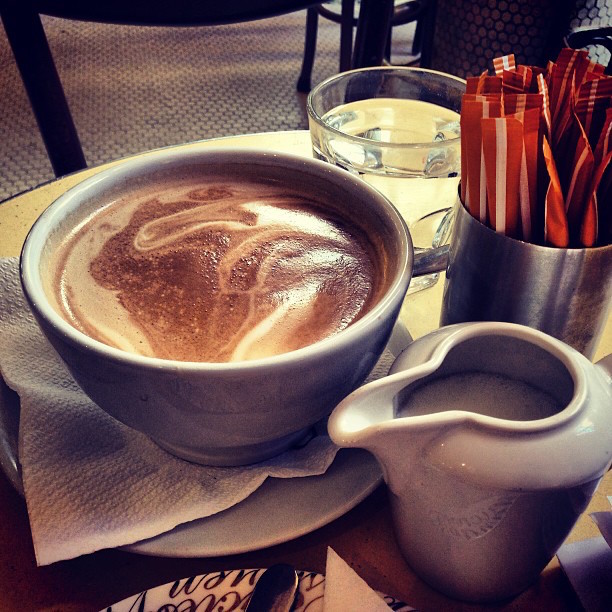 ######I'm from Melbourne. Studies show approximately 40% of conversations in Melbourne are about where to get the best espresso (the other 60% is art, music, footy, food, weather and beer).*
"San Fran Coffee" – translation:
"San Fran" – Australian for San Francisco
"Coffee" – Australian for Espresso
You see, we're a completly lost in translation. When your American friend says "coffee" she means "coffee". For Australians, coffee almost always means espresso.
Here is a guide for travelers from my native land on where to find Melbourne/Sydney-grade coffee (espresso) in San Francisco. Line up friends! (Seriously, be prepared to line up for a few of these)
I promise it'll be worth it.
####Contraband |Larkin Street, Tender Nob
The fact that the owner of Contraband knows what a flat is bodes very well for us. Clearly Australians have been sending other Australians here for a while. From the rotating collection of art on the walls to beautifully balanced rich taste of the creme Contraband is an aesthetic experience. Order a cappuccino for a flat white (with no variation, it's perfect!). If you need it they also do soy milk cap very very very well.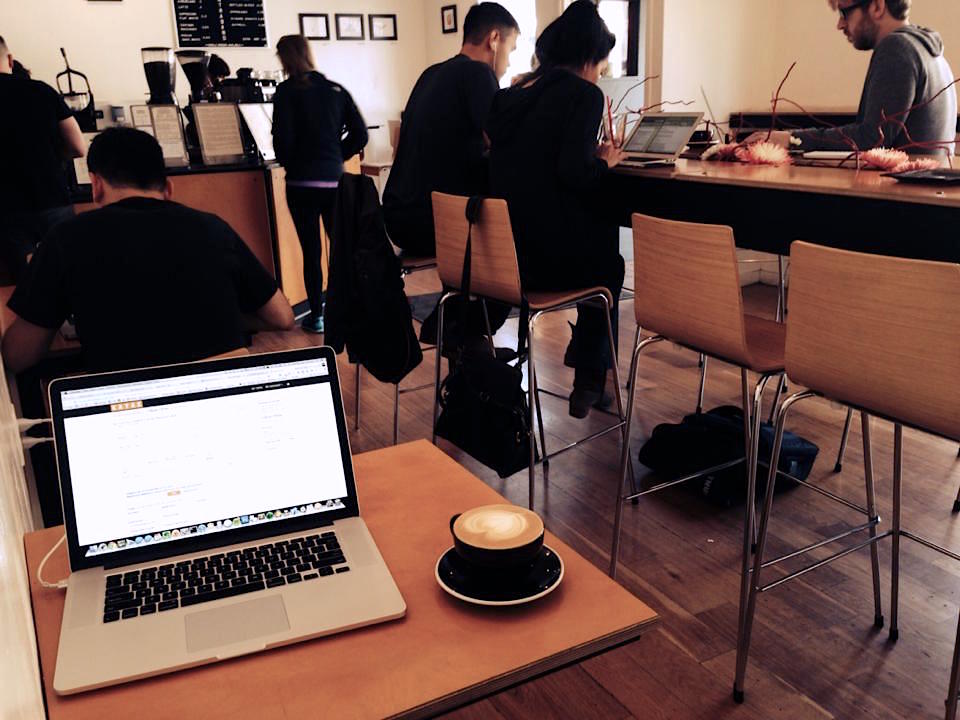 ####Bluebottle | Jessie Street, Downtown/ Linden St, Hayes Valley/ Fisherman's Wharf, Embarcadero
There are so many Bluebottle spots around SF now – I even found one in Sonoma! (Note to self – Sonoma wine blog-post is in my future) Another micro-roaster that started out in Portland, Bluebottle has a lighter taste than other espresso but still full and strong.
Order a cappuccino for a flat white and check out Linden St - particularly if Jessie Street is packed - for a laneway hole-in-the wall in one of San Fran's hippest little neighbourhoods, Hayes Valley, bordered by stallwarts of local fine arts, grungy street art and a classic SF dog park. Check out the Fisherman's Wharf Bluebottle (see image!!) for unmissable Bay Bridge views that guide books miss, and waffles!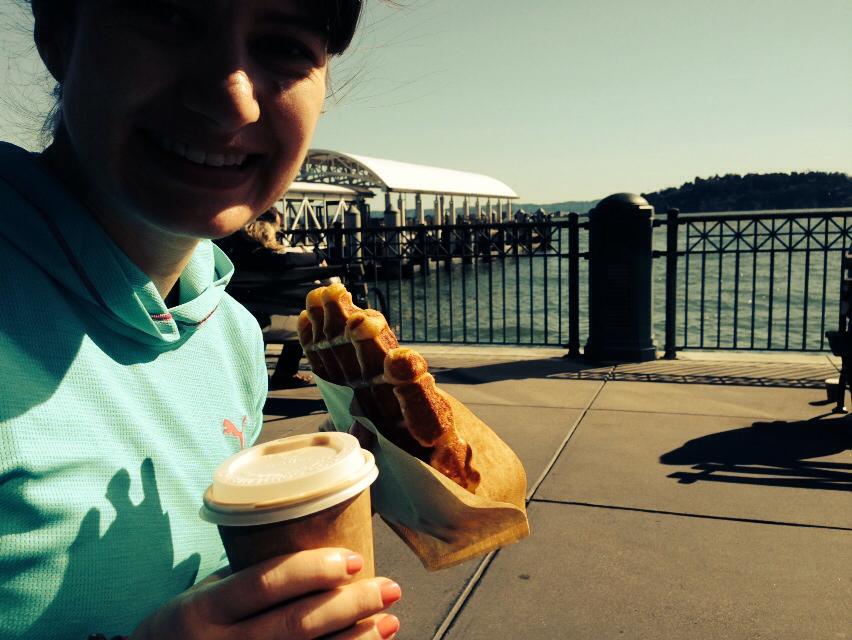 ####Mavelous | Market St between 10th and 11th
Hmm, so since we've been here Market between 10th and 11th has always been a pretty sketchy part of town. This specialty cafe is part of what's bringing more and more folks (Yep, becoming Californian - said folks) to this part of the city. It has that rich artisan coffee brew smell as you walk in that will remind you of home. Plus Mavelous are committed to sustainably produced brews! Awesome.
####Farm Table | Post St, San Fran
Farm Table is literally a beautiful traditional hard-wood kitchen table in a tiny space on Post. Everyone sits together on long benches, but they also have cute outdoor seating and bench space to stand. The tiny space is always packed because the coffee is divine. Also try the granola with yogurt and berries or the croissants. Yum! (see image: me on my birthday at Farm Table - ate too quickly to take photos! Ha)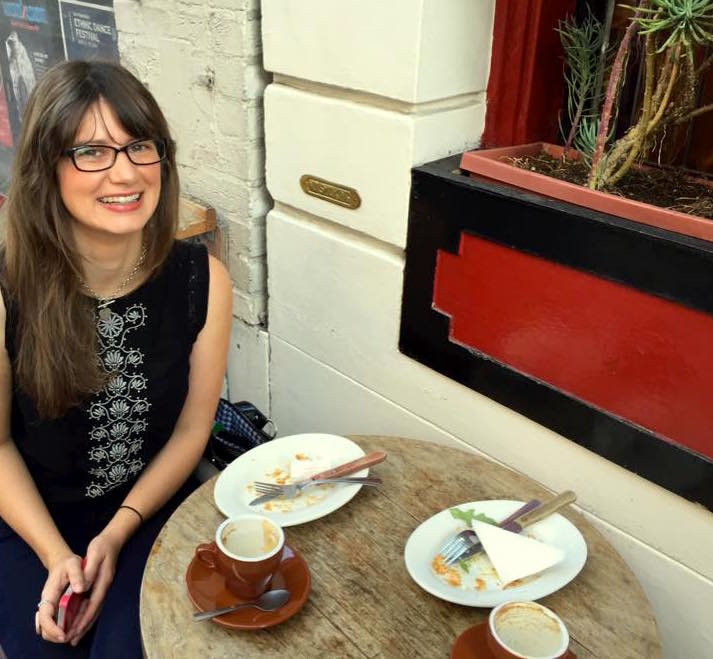 ####I want to close with a quick tip…
You'll be tempted to use Yelp while traveling in the States - and that's great. Use it for searches like "restaurants", "lunch", "art-house screenings of 'On the Road'", "bike hire" and pretty much anything else. You can even search the word heat map to find suburbs most often described as "sketchy" - see Tenderloin - or "hipster" - see Mission.
Use it for any search EXCEPT "coffee". Yelp "coffee" reviews are written by people who think (remember our lesson) "coffee" is coffee not espresso, and here's what you're likely to get:
"#1 Starbucks on Powell and Sutter: best Starbucks in the city. Double whip French drip honeycomb latte with extra dollop is the best I've ever had especially when I add sweetener"
And that's definitely not what you want.
Ew, Starbucks.
See how I look out for you!!
Live, travel, adventure, bless, and don't be sorry - Jack Kerouc
#####Happy traveling!

#####Liv xx
*These percentages are 100% made up! ;)